Today I....
Hi Everyone!!! This is Amy Parker, and I am so excited to be posting my first post here at Authentique! :D I was gonna cover two things today, and I really hope you will be inspired by both of them.
Over the years, since I have started scrapbooking, I have noticed that I tend to not use large blocks of patterned paper on my layouts. I like strips of it or hints of it here and there, or in shapes or something. Anything, as long as it isn't just a rectangle or square, but is altered in some way. I am not sure why, but something in my just has to chop it up into something different! LOL! But I will admit, I am very jealous of those scrappers who can pull off blocks of patterened paper on their layouts. I have tried so many times in the past, and been so disappointed that my layouts came out looking NOTHING like theirs, or even remotely as good.
Well, I decided to give it one more try this time. And again it just wasn't working for me. I had my piece of paper behind my photo and it just looked so flat. Then a lightbulb went off! And this may not be anything new to lots of other scrappers out there, but I was so excited when I got this idea that I was literally bouncing in my chair while cutting the paper! :P Anyway, one thing I am addicted to on my pages is texture. I LOVE creating depth and movement on my pages with different texture techniques. Now I don't mean mixed mediums and whatnot (although those are fun!), what I mean is layers upon layers upon layers of papers, embellishments, and pretty much anything that I find in my house that will work. :D So this idea I had was to create the same color block with the patterend paper, in the same spot as I intended before, but this time I chopped the paper into a whole bunch of squares and rectangles (just free-handed it)and just started stacking them on top of one another. :D This created a very layered and piecey and textured look! I was soooo happy with it! And because I seem to NEVER be able to do a layout without sewing anymore, I stitched vertical lines across my paper pieces. This created even more texture and I just love it!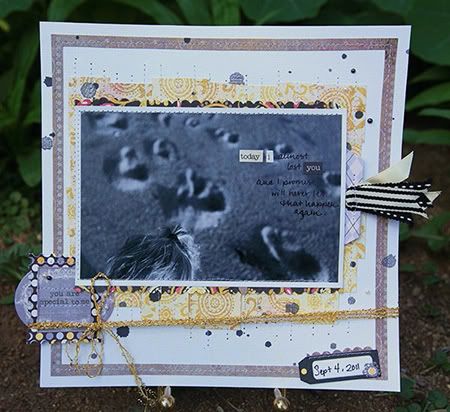 This technique is really easy and so fun, and freeing! I know I will certainly be doing it more in the future! :D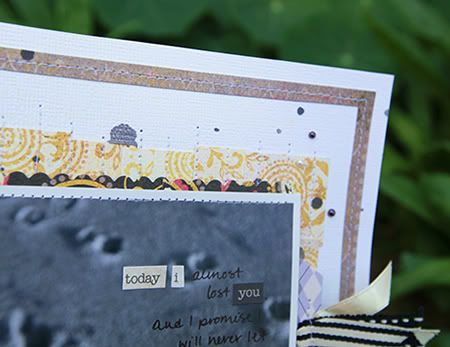 So the subject of my layout you may notice is not the happiest in the world. Since we became a family of four, we have mostly been indoorsy kind of people. Or at least stay in the front yard kind of people. So for our first real big outing as a family of four we went to the County Fair a couple weekends ago. We had a wonderful time, and the Munchkin (just in case you aren't familiar with my blog-that is what we call our eldest daughter Creedence, and that nickname comes as natural to us all as her actual name) was beside herself she was so excited! She went on rides and saw livestock and played games! It was seriously like the best day of her life so far. Up until the last 15 minutes we were there. While eating some food that we picked up last minute while heading back to the front gate area, both Jed and I took our eyes off Creedence. It was only seconds, but that was all it took and she was completely out of our sight. Seriously I am shaking as I type this I am still so scared by what happened. Luckily there was a guy who saw where she went and he helped me find her, as Jed had to stay with Aurelia in the stroller. I felt like I was running in circles, my mind was racing yet empty at the same time and I could hear my heart pounding in my head. The whole thing lasted for no more than 5 minutes as I saw her little ponytail in between some chairs in front of the stage area, and I ran at her and grabbed her. And I just started bawling. Almost losing her was the scariest thing I have ever been through, and the that was hands down the worst day of my life. I felt sick for days afterward. And I made a promise right then and there-to Creedence, to my husband, to our youngest Aurelia, and to myself-I would never ever let go of her hand again like that. Ever. My heart can't go through that ever again.
I shared the story behind my layout with you because it goes along with the next thing I wanted to tell you about. I use scrapbooking as a form of therapy. It is extremely helpful for me to have this outlet, and to be able to let those feelings and emotions go by scrapping them. I felt the need to get this particular memory down on paper, as it was not only a milestone in my mommy years (not a good milestone but something I learned a huge lesson from), but it was also a big day in our family, and one that I never want to forget. I wanted you all to see that it is just as important to document the hard times, as it is the good times. Don't be afraid to scrap something difficult, cause it is incredible how therapeutic it is to get it down on paper, and that has helped me so much through the years.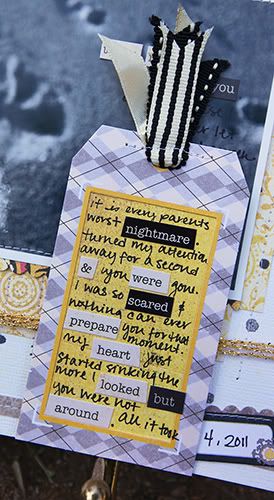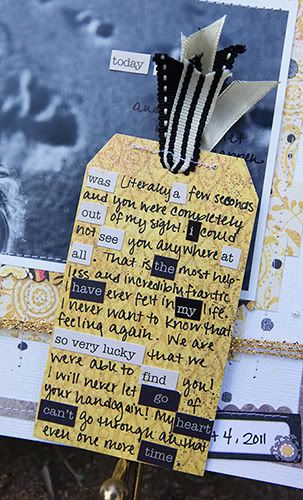 Well I hope you all enjoyed my first posting here at Authentique! (And I hope I didn't talk your ear off! LOL!)
Authentique Supplies used:
Papers: Blissful "Foundations", "Prosperity" and "Euphoria"
Icons: Uncommon
Headlines: Blissful
Excerpts: Blissful
Tabloids: Blissful
Diction: Blissful, Glowing, and Wonder
~Amy