Collection of Festive Christmas Cards
Jennifer Snyder here to wish everyone a Merry Christmas and Happy Holiday Season. I'm sharing the last of my Christmas cards today, and proud of myself for mailing EVERY card BEFORE Christmas. I do believe it's the first time ever. I'm typically an after Christmas mailer.
Why was this year different?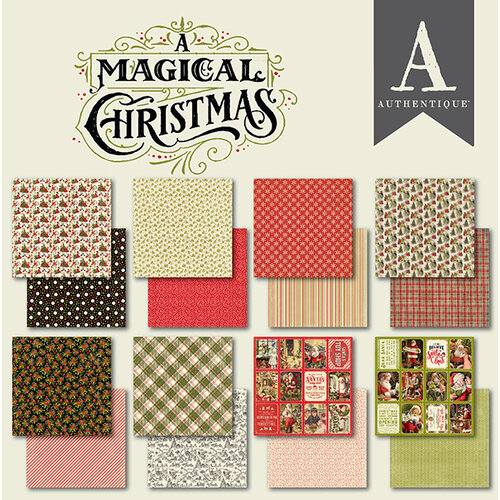 What I especially loved about the
Magical Christmas" - 6 x 6 Paper Pad
were the tiny prints which were perfect for the background in the "Joy" die cut - creating a beautiful, graceful card.
Next up - the Nativity Creche card. The Authentique papers are so striking with the red and gold foil cardstock combo. The Nativity Creche die is another very old die from my stash. I have to say, I'm obsessed with that black poinsettia print on this card.
The last card of the season was created for a young niece who enjoys frosty outdoor activities in winter. I also enjoyed sledding BUT these days it's more of a thrill to watch her sled. I can imagine the face plant in the snow as I'm crafting.
Sort of like the old saying, " those who can, do. Those who can't, craft".
Well, something like that.
I'm a fan of peppermint stiped paper and the combo with the red snowflake paper makes for a fun card with the hint of a peppermint white Christmas.
Thank you for stopping here today. May your entire Christmas/ Holiday season be filled with crafty joy.
sequins
Gold Foil Cardstock